The other morning after work I decided since it's not raining, I should hop on the kayak for a bit before the rest of the world woke up.
I didn't want to drive too far, so I just went down to the Fox River. There is a little boat landing by the shop where I bought my roof rack.
I got the kayak down, tossed my paddle and life jacket out of the car, and pulled the car up to park. I walked down to the landing, took off my sandals and tossed them in the back of the kayak and went to hop on. I felt a sharp pain on the side of my foot and looked down to discover there was a fishing lure that had washed up along with the seaweed that had cut the side of my foot open. I was very lucky not to have a lure sticking out of my foot, but at that point I didn't feel very lucky. All I could think about was my SCUBA instructor telling me about a technical dive he had done in the Fox where he cut his finger through his glove and wound up in the hospital for almost a month with a staph infection and nearly lost his finger. This was not a good start to my expedition.
**I'm still on Fox River death watch. So far, so good.**
First, allow me to give you a bit of a feel for just exactly where I was. It's important that you understand the gravity of the situation... and just how motivated I was to ensure I DID NOT fall off my kayak.
Yes, the water really is that color.
And yes, there are warnings recommending NOT eating any sea creature that comes out of it.

There are also some really big fish in there - and they like to splash at the surface a lot.
I wasn't going to bring my camera with me, but then I saw this.
I promptly changed my mind.

After digging out a band-aid from the trunk, I was off.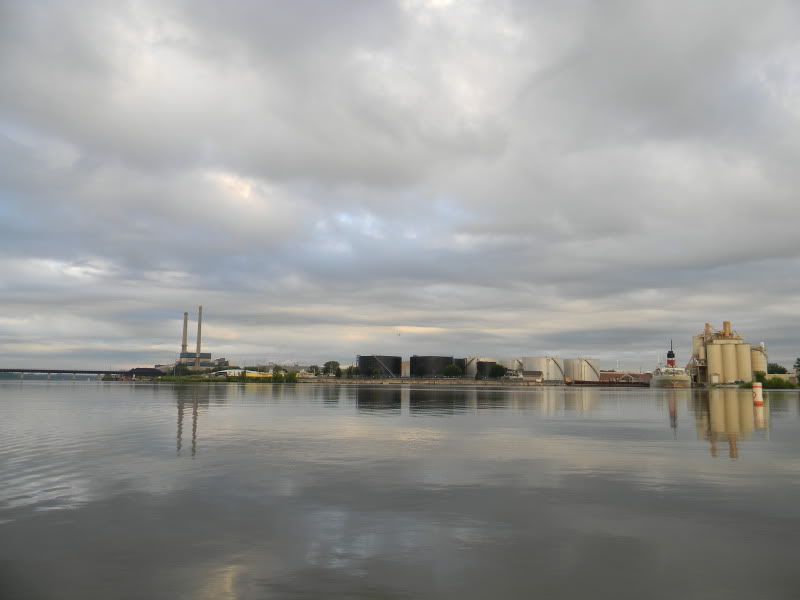 This view in no way contributes to my Zen, but it actually was pretty wonderful on the water. The breeze was coming from the "non-industrial" side, was nice and cool, and the birds were singing as the sun was coming up. I got to the old train bridge paddling along the shore toward the Bay.
It was pretty cool to be able to get so close to the bridge.

While attempting to take pictures of the bridge, I became fully aware of the strength of the current under me, as it was hard to get a picture without drifting directly toward a pillar. I had not really thought about how easy it had been to paddle this far.

I may have panicked for a second. It's been an insane year for rain - just how strong a current am I going to be paddling against to get back to the boat landing?
As I started to paddle back I realized I'd been worried over nothing, it really wasn't that bad.
This is when I started trying to get pictures of the pelicans that were hanging out across the river.
I didn't want to get too close, but I the sun was coming up and shining right on them, and they were so pretty. I just had to paddle over to the other side.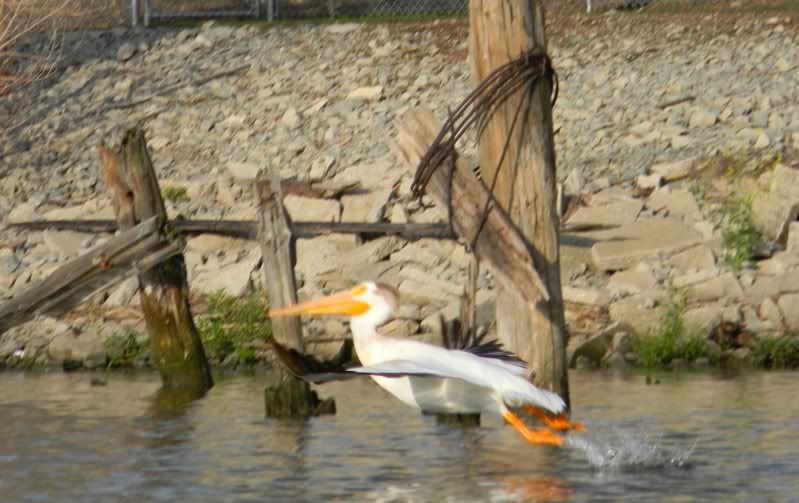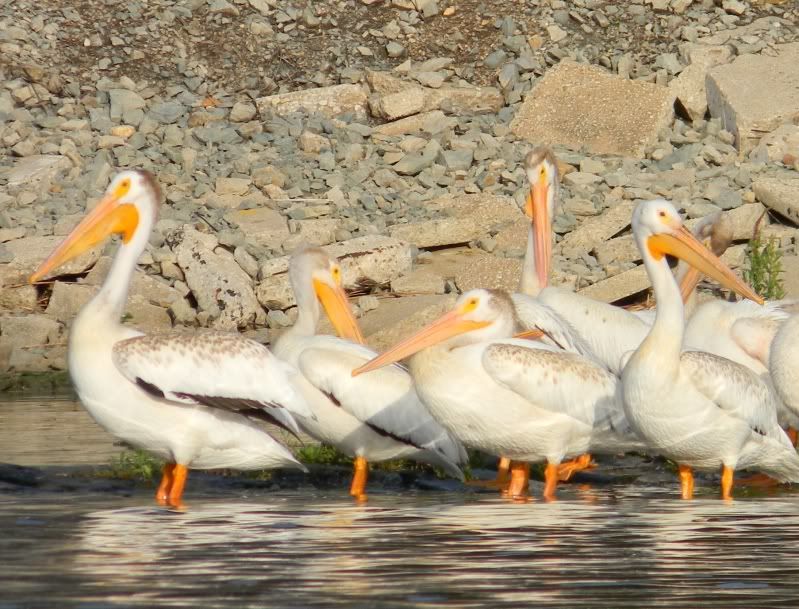 I checked in every direction for as far as I could see to make sure no boats were coming at me... many times... and just drifted around for a while. It was actually quite fun.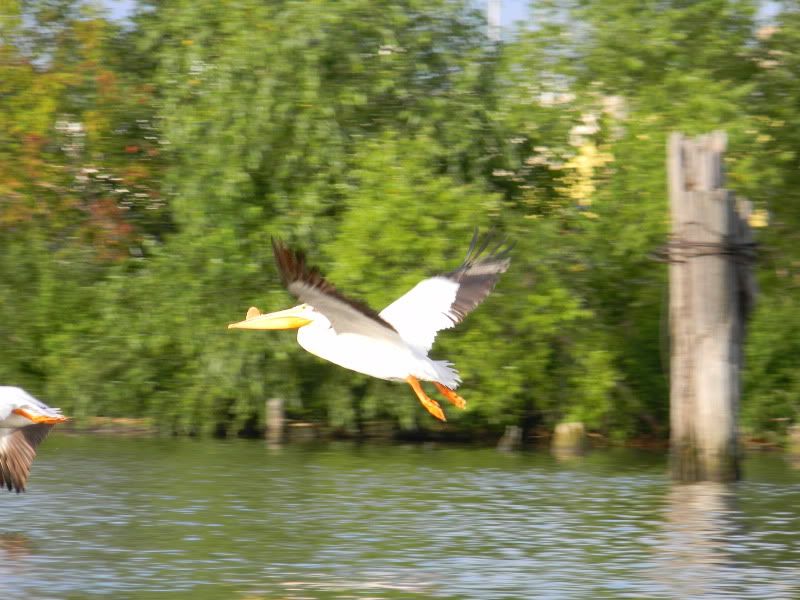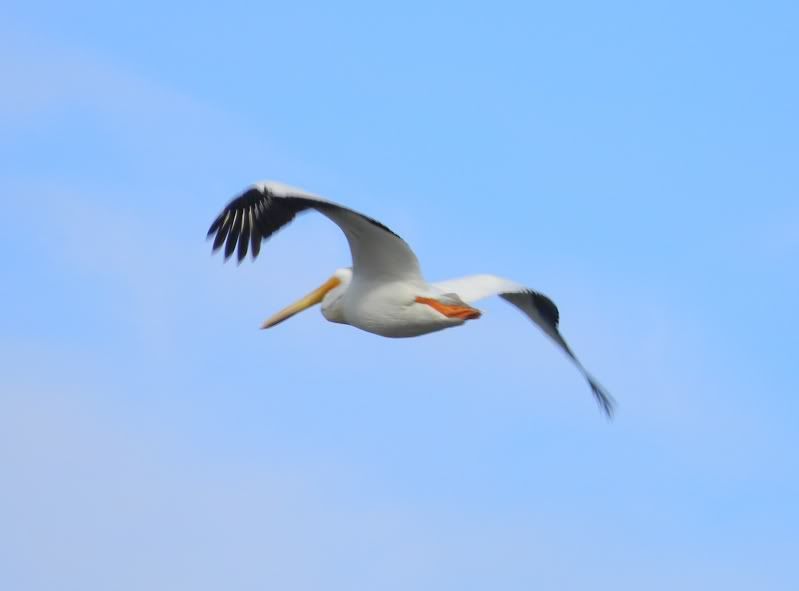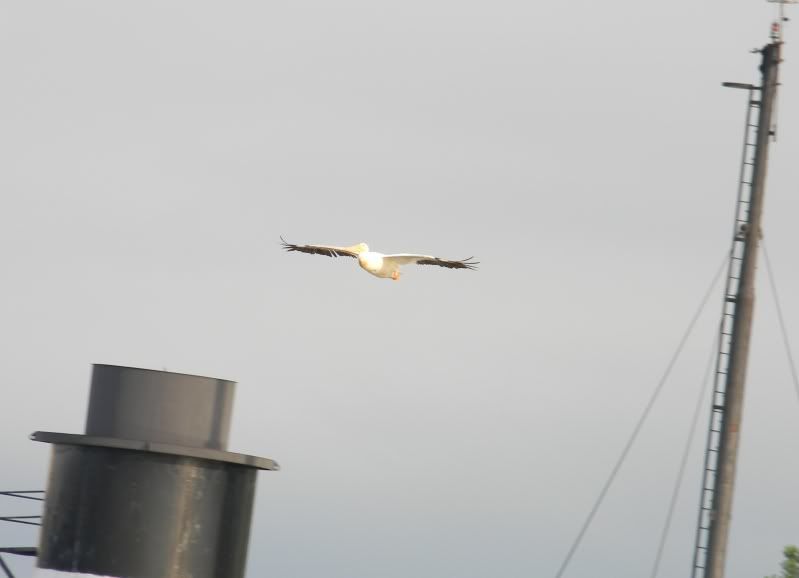 Some of the pictures could have been in better focus, but the fact that I even got the flying birds in the frame impressed the heck out of me.
Assuming I survive, the trip was worth it. Can't say I'll be racing to get back out on the Fox any time soon, though. I think I'll re-visit Lily Lake later this week instead.